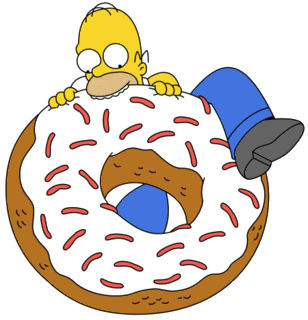 Operator! Give me the number for 911!

Bart, with $10,000, we'd be millionaires! We could buy all kinds of useful things like...love!

Well, it's 1 a.m. Better go home and spend some quality time with the kids.

Maybe, just once, someone will call me 'Sir' without adding, 'You're making a scene.'

You know, boys, a nuclear reactor is a lot like a woman. You just have to read the manual and press the right buttons.

Doughnuts. Is there anything they can't do?

When will I learn? The answer to life's problems aren't at the bottom of a bottle, they're on TV!

[Meeting Aliens] Please don't eat me! I have a wife and kids. Eat them!

What do we need a psychiatrist for? We know our kid is nuts.

Kids, you tried your best and you failed miserably. The lesson is, never try.

That's it! You people have stood in my way long enough.

I'm going to clown college!

I want to share something with you: The three little sentences that will get you through life. Number 1: Cover for me. Number 2: Oh, good idea, Boss! Number 3: It was like that when I got here.

Kill my boss? Do I dare live out the American dream?

[Looking at a globe map...country being Uruguay] Hee hee! Look at this country! 'You-are-gay

Dad, you've done a lot of great things, but you're a very old man, and old people are useless.

'To Start Press Any Key'. Where's the ANY key?

Beer: The cause of, and solution to, all of life's problems.

I'm normally not a praying man, but if you're up there, please save me Superman

Lisa, if you don't like your job you don't strike. You just go in every day and do it really half-assed. That's the American way.

I'm in no condition to drive...wait! I shouldn't listen to myself, I'm drunk!

If something's hard to do, then it's not worth doing

Dear Lord.. The gods have been good to me. For the first time in my life, everything is absolutely perfect just the way it is. So here's the deal: You freeze everything the way it is, and I won't ask for anything more. If that is OK, please give me absolutely no sign. OK, deal

Son, when you participate in sporting events, it's not whether you win or lose: it's how drunk you get.

When I look at the smiles on all the children's faces, I just know they're about to jab me with something.